WHAT IS A LIPOSOME?
Liposomes are hollow nanospheres made of a double lipidic layer that enclose an aqueous core. They are similar to micelles besides the size and the number of lipidic layers.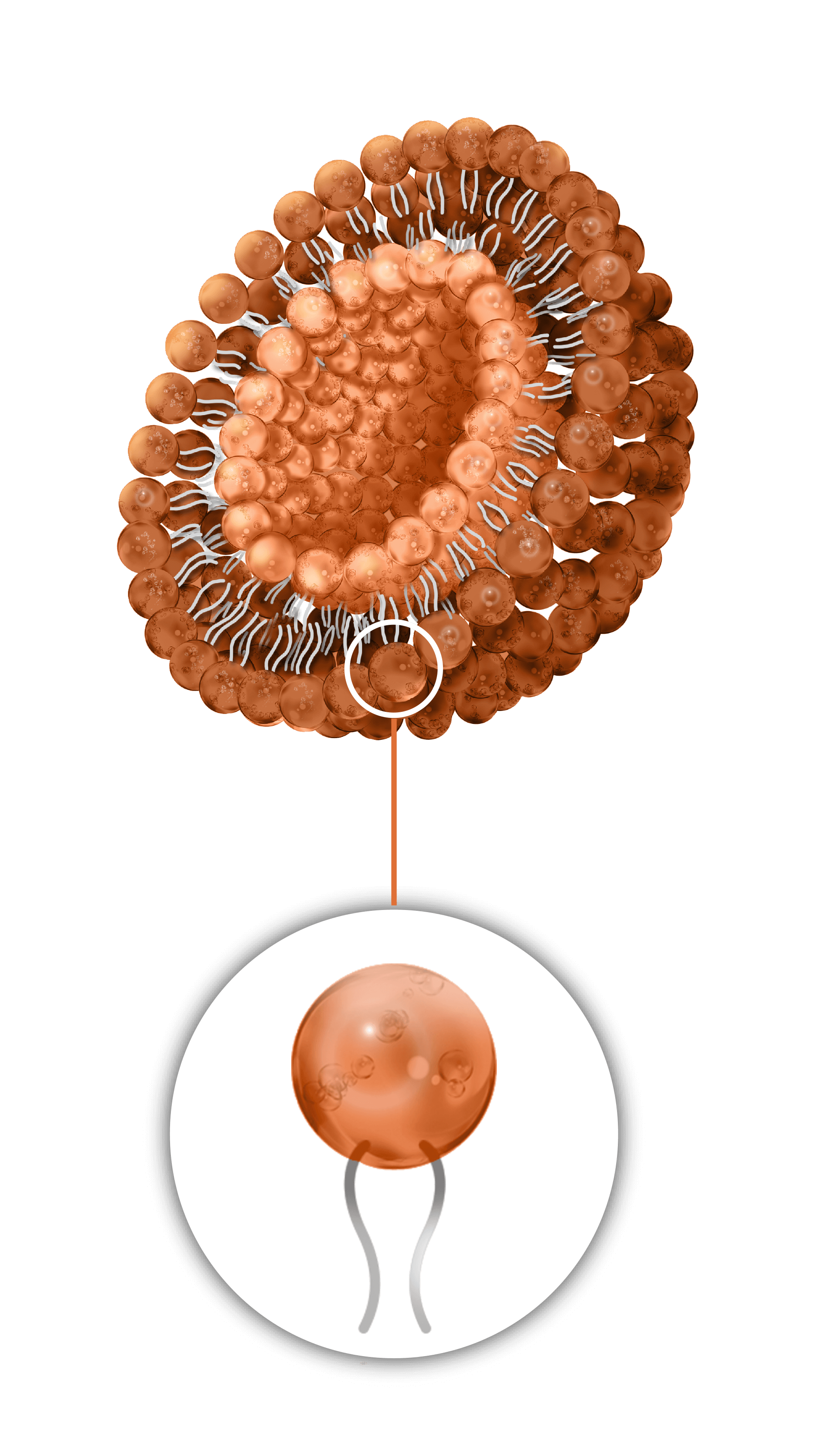 Normally, the lipids employed for liposomes are phospholipids like phosphatidylcholine or cholesterol, that are also naturally present in cell membranes. However, other compounds can be used instead, for example, polymers or artificial surfactants (ckeck Polymeric nanoparticles) à Enlace a Polymeric nanoparticles.
Lipids have two differentiated parts. A hydrophilic or water-loving part referred to as the "head" that consists of a negatively charged phosphate group and, attached to it, two parallel uncharged fatty acid chains hang making the hydrophobic or water-hating "tail". The special structure of the lipids is what gives them the amphiphilic properties that are essential to form emulsions and liposomes. Differences in the head and tail chemical structure, lead to the occurrence of multiple phospholipid varieties.
When they are placed in an aqueous media, the hydrophobic tails arrange together to avoid being in contact with the water, forming simple (micelles) or double (like in liposomes or cell membranes) layers and finally assembling in a spherical shape with the phospholipid heads facing outwards. This process is eased further if energy is applied like with sonication, homogenization, heating or even simply shaking.
WHAT IS A LIPOSOME DELIVERY SYSTEM?
Liposomes are the most well-known nanocarrier. Their properties allow the solubilization, carriage and protection of pharmaceutical drugs to their therapeutic target. Since first described in 1974, they have been used in multiple biomedical areas as pharmaceutical formulation enhancers improving the pharmacokinetics and pharmacodynamics of new therapeutical compounds. Not only have liposomes enabled the use of insoluble pharmaceuticals, but also have allowed the improvement of already in-use formulas.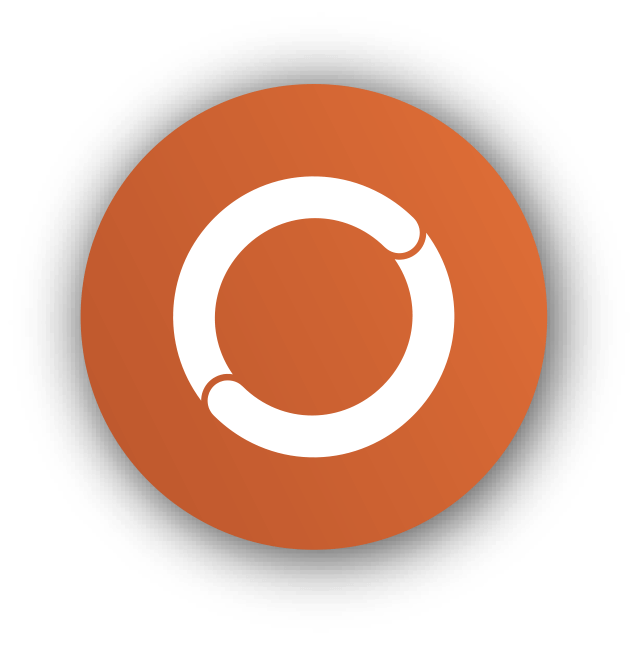 Mimik natural cell membranes
Liposome composition is very similar to natural cell membranes; they contain phospholipids and cholesterol which reduces immune system triggering and clearance. Additionally, they have very safety profile, with little to no toxicity problems.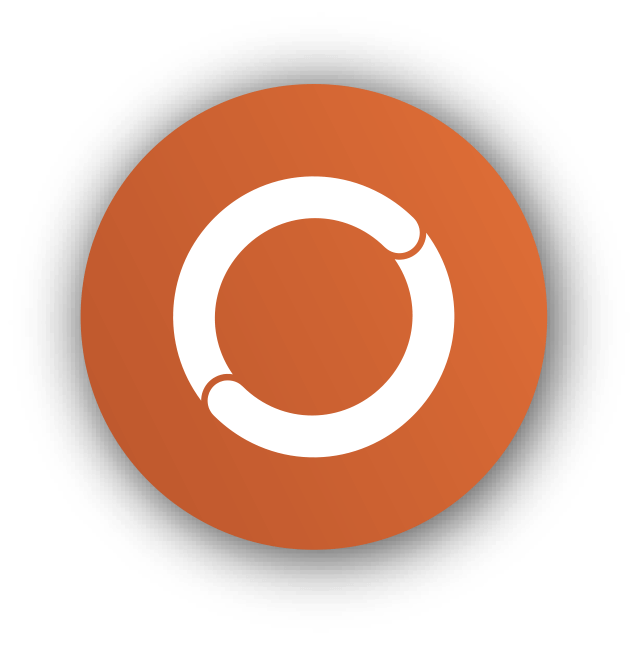 Compound protection
Another challenge faced in the pharmaceutical industry is the degradation of the drug compound under light, pH or oxidative conditions. Liposomes help maintaining the therapeutic activity and molecular integrity of the susceptible pharmaceuticals.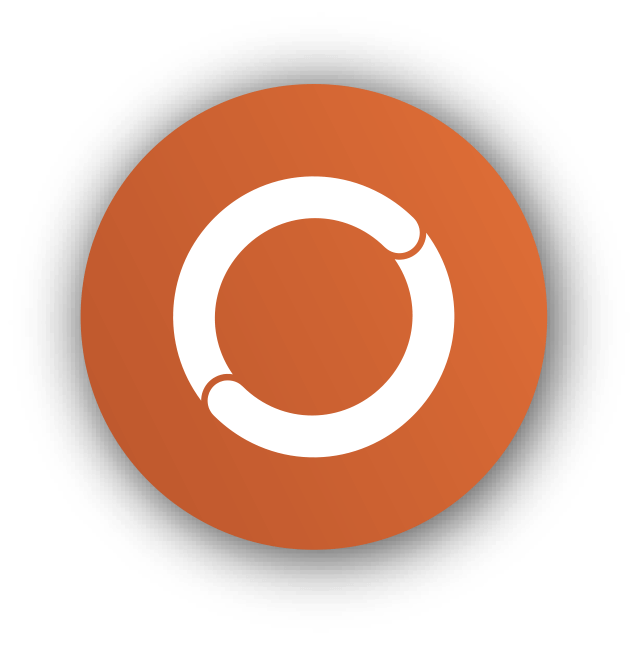 Scalable production
Manufacturing methods for liposomes are easily scalable compared to other nanocarrier products.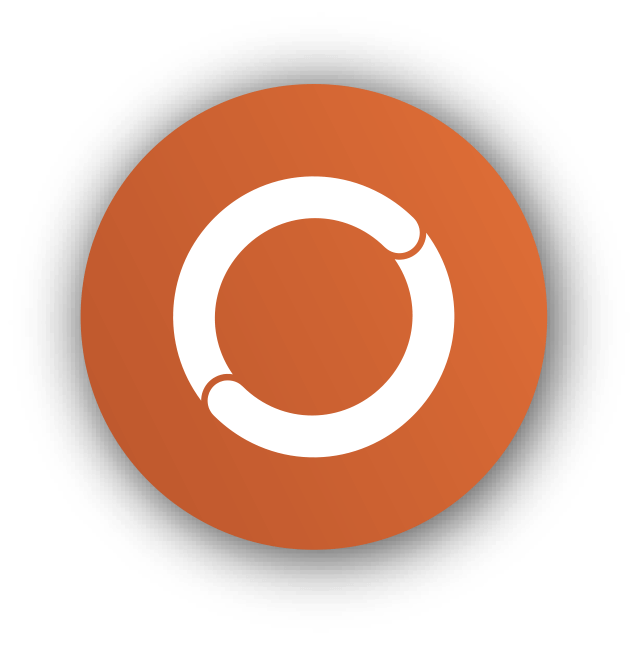 Hydrophilic and hydrophobic drugs
Liposomes have two possible compartments in which to solubilize compounds, one being within the lipid membrane, for hydrophobic compounds and the other the aqueous core the membrane encloses for hydrophilic compounds. This versatility allows the use of lipophilic drugs without the drawbacks of applying toxic solubilizing agents.
LIPOSOMES VS LIPID NANOPARTICLES VS NIOSOMES
There are many liposome-like carriers that have been used as drug delivery systems. The most well known are solid lipid nanoparticles and niosomes.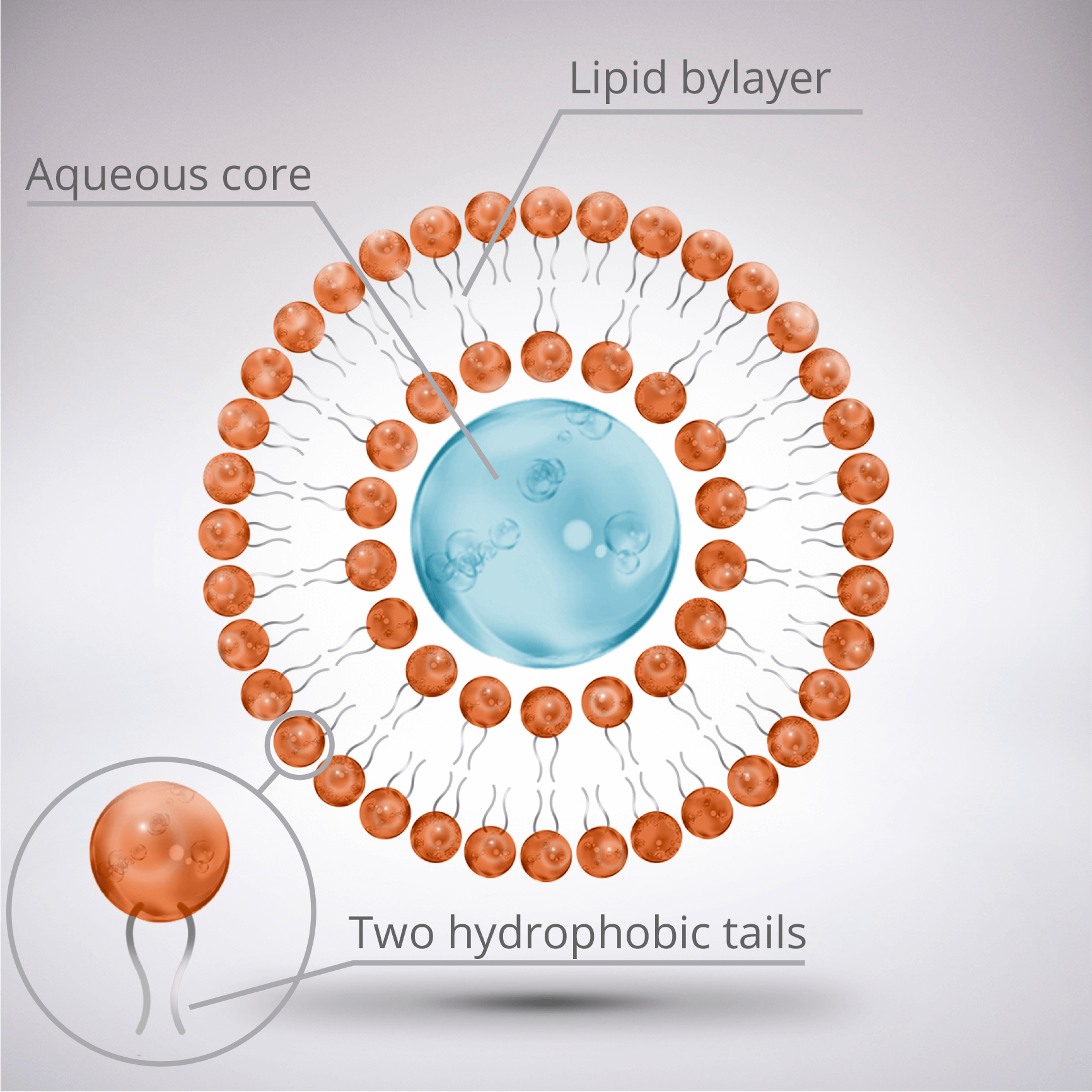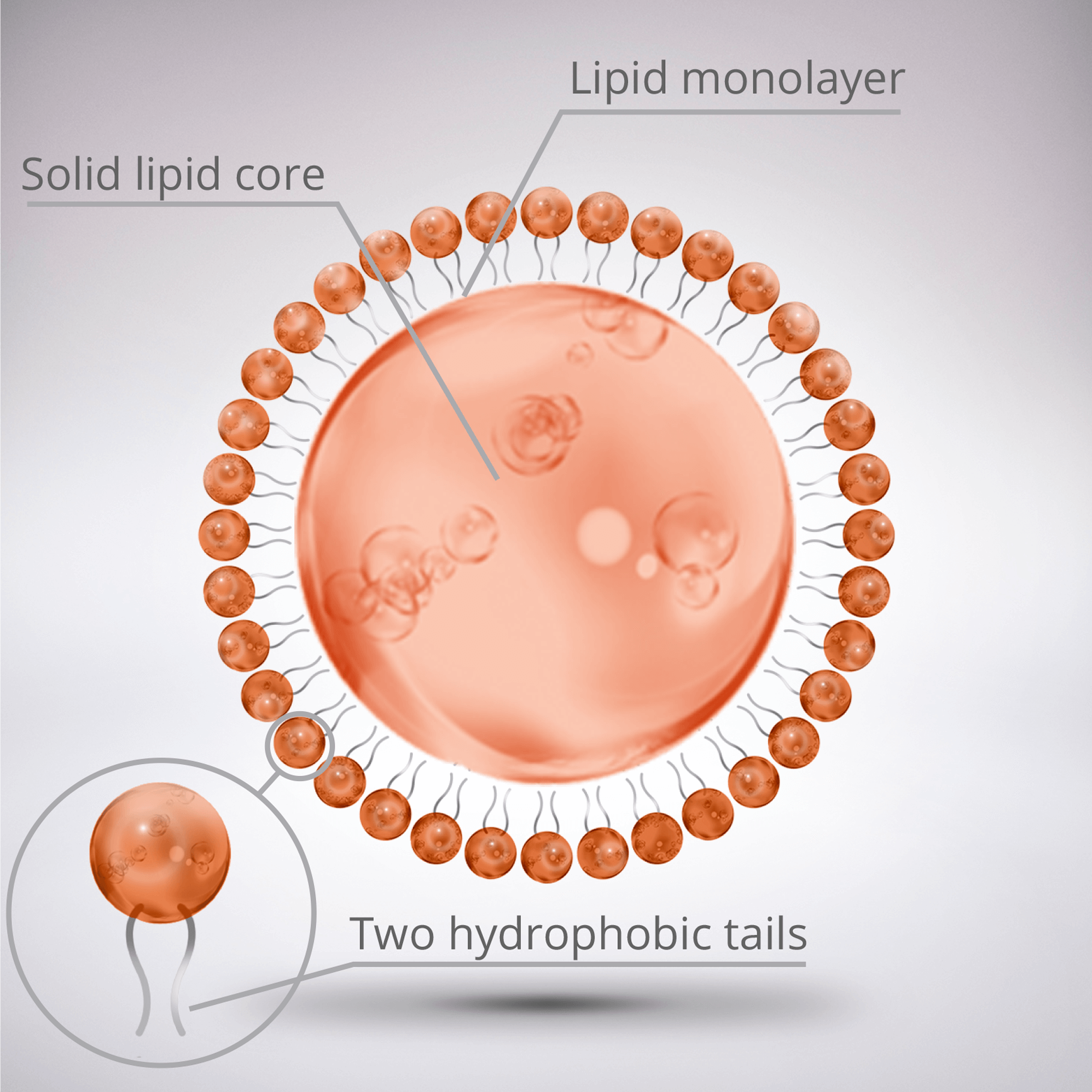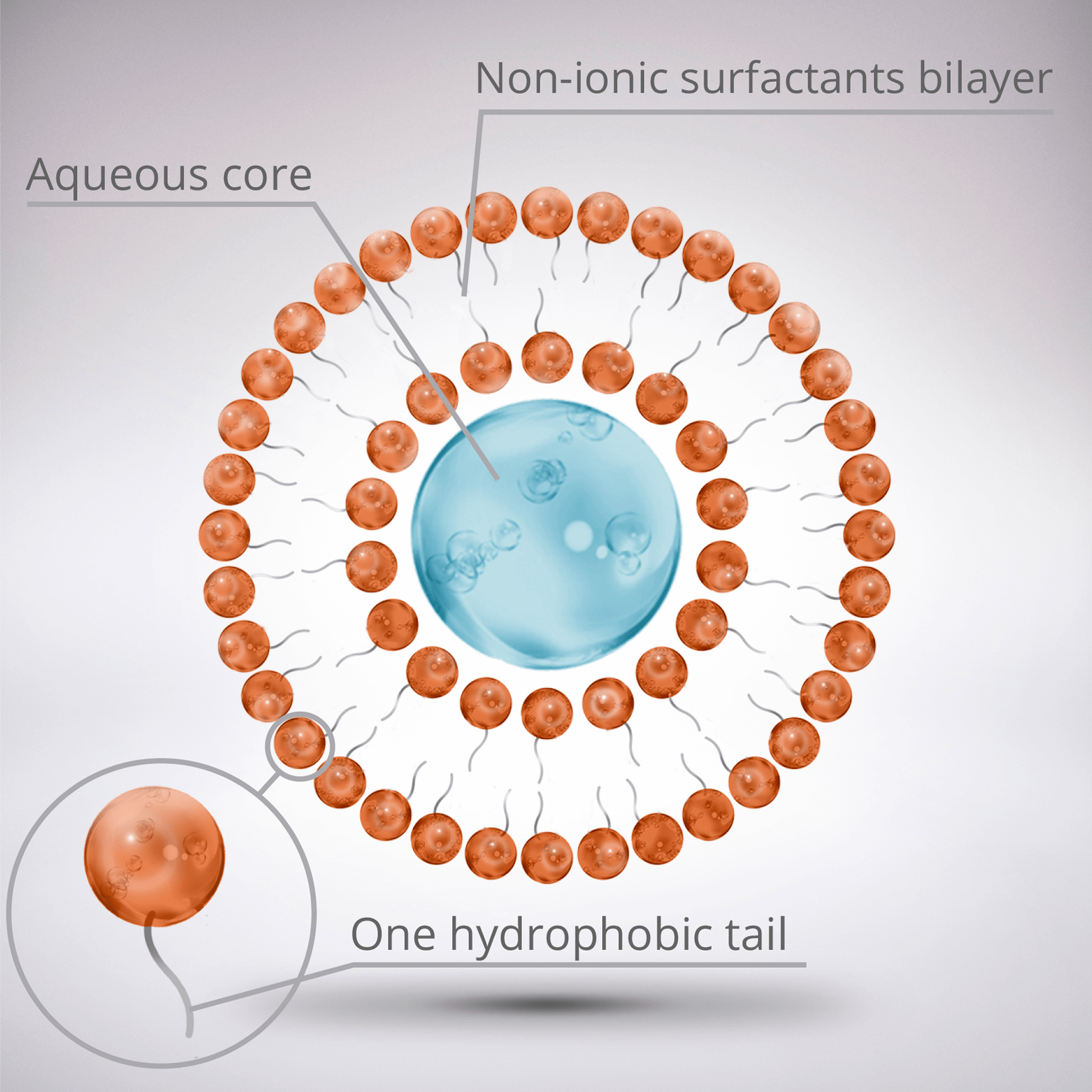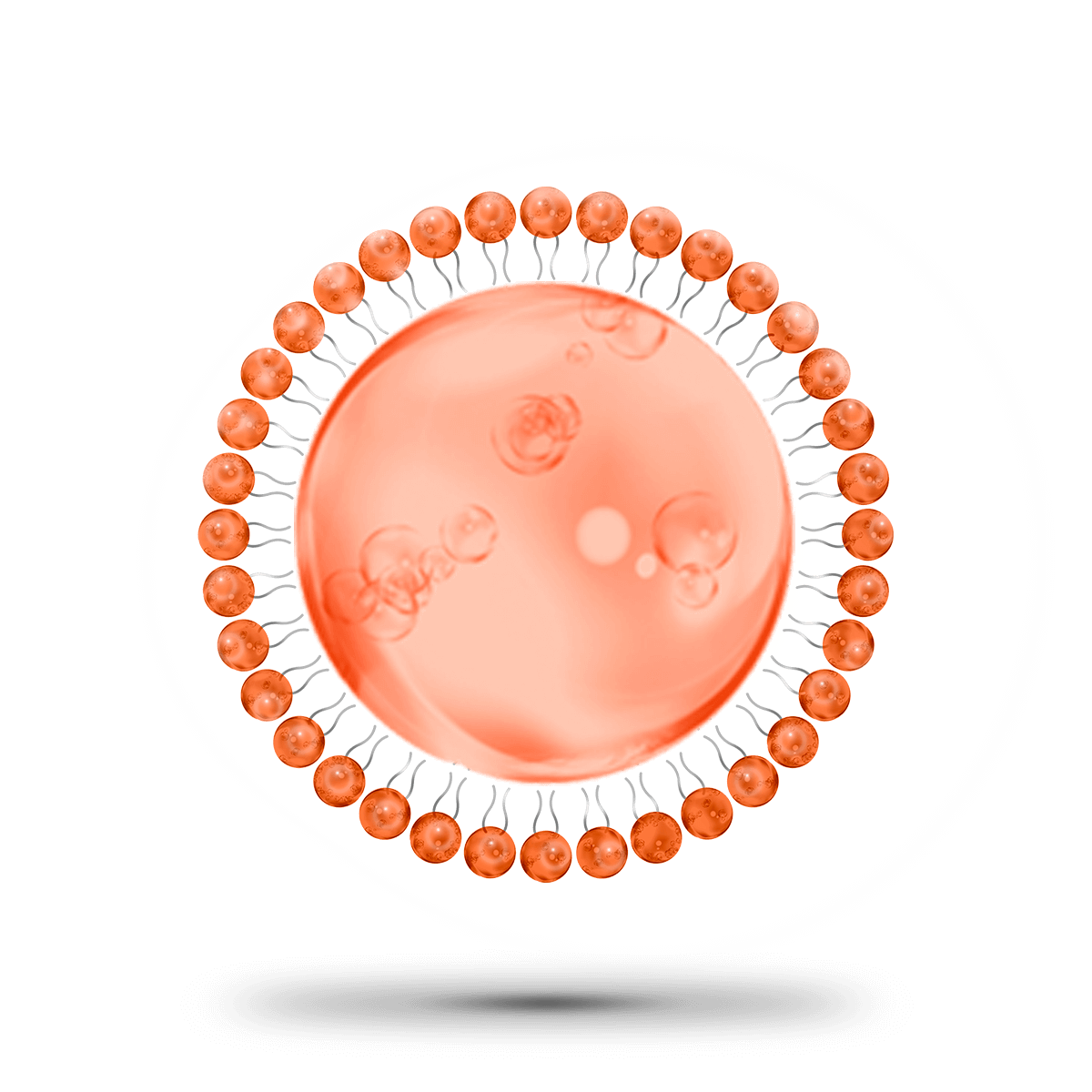 SOLID LIPID NANOPARTICLES
Solid lipid nanoparticles or SLNs are another type of lipid based nanocarrier formed as aqueous colloidal dispersions. Unlike liposomes, they have a single lipid layer, and contain a crystalline matrix of solid lipids at room and body temperature. Normally, they are spherical, but other shapes have also been described. Emulsifiers play their part by reducing the interfacial tension (between the solid lipids and the aqueous dispersion media) and thus, stabilizing the SLNs and preventing agglomeration.
There is more flexibility in the use of lipids for solid lipid nanoparticles, including tryglycerides, partial glycerides, fatty acids, fatty esters, fatty alcohols, steroids, and waxes. As with any other nanovehicle, their composition and physicochemical properties will determine its drug loading capacity and its pharmacological behaviour.
SLNs can carry multiple active compounds between the fatty acid chains or attached to its surface (such as drugs, genes, DNA, plasmid, and proteins) and can be used for various application routes (parenteral, oral, dermal, ocular, and pulmonar).
Still, the loading capacity is a strong limitation, especially in the case of low solubility in the lipid mixture. This is where nanostructured lipid carries come into play as an improved second-generation SLNs. The main difference is the use of a combination of liquid oils and solid lipids in its core structure, that increases the drug loading and allows better control over the drug release pace.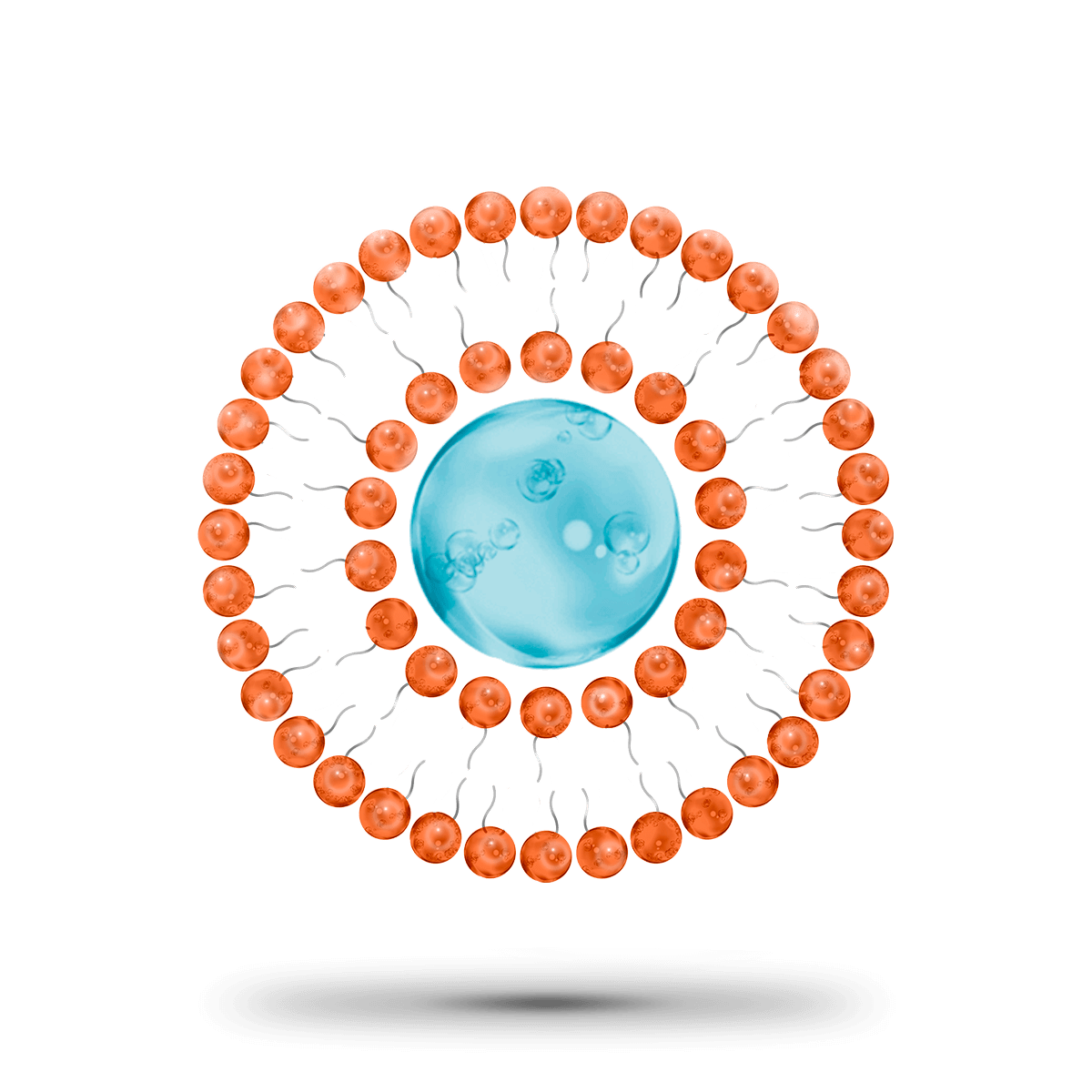 NIOSOMES
Niosomes are another type of nanovesicle used as drug carriers based on non-ionic surfactant bilayer with cholesterol. The most common surfactants include Tween and Span. Similarly, to lipids in liposomes, the surfactant molecules are amphiphilic which allows them to self-assemble in closed bilayers when placed in aqueous media. This is favoured if energy is applied in the form of heat or agitation.
The surfactants in this case, have an uncharged single hydrophobic chain, whereas phospholipids have a neutral or charged double chain. The amount of cholesterol is also lower compared to liposomes which has been shown to improve the loading capacity of the vesicles. In this regard, the components, and physical characteristics of the nanovesicle will determine its properties and in vivo behaviour, as the stability over time and storage temperature.
Their main advantage over liposomes is that niosomes are more stable against oxidation and temperature. The use of non-ionic surfactants allows niosomes to be more permeable through biological membranes while still being innocuous and biodegradable. Additionally, the use of non-ionic surfactants is a more economical alternative since they don't require an established purity and storage conditions unlike phospholipids. On the other hand, they may be prone to aggregation, which is why proniosomes where developed. Proniosomes are dry preformed niosomes that can be hydrated in an aqueous media to create a fresh niosomal dispersion, thus avoiding stability issues.
Niosomes and proniosomes have been extensively used in the cosmetic industry as skin delivery systems. Well renowned brands as L'Oréal and Lancôme were pioneers in this innovative field introducing niosomes in their products and even patenting ones of their own.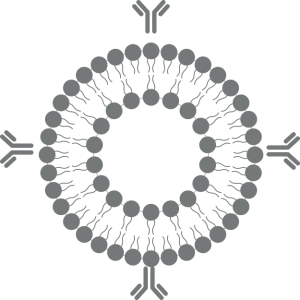 GENE
THERAPY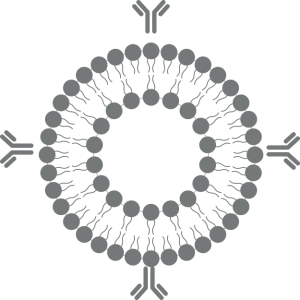 CANCER
TREATMENT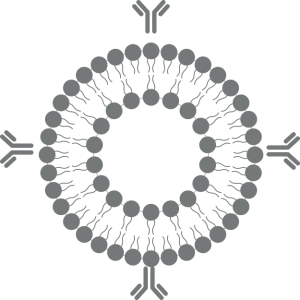 OCULAR DRUG
DELIVERY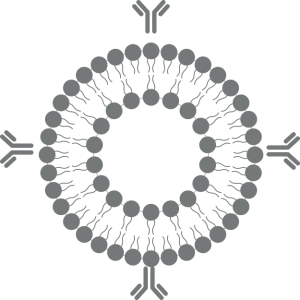 BRAIN DRUG 
DELIVERY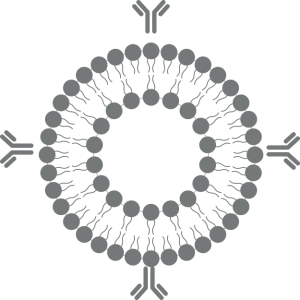 VACCINES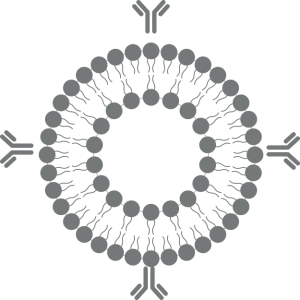 INMUNOMODULATING
RESPONSE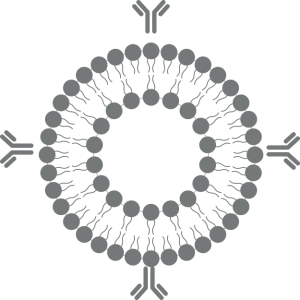 TISSUE
ENGINEERING
WHAT KIND OF DRUGS MAY BE DELIVERED BY A LIPOSOME?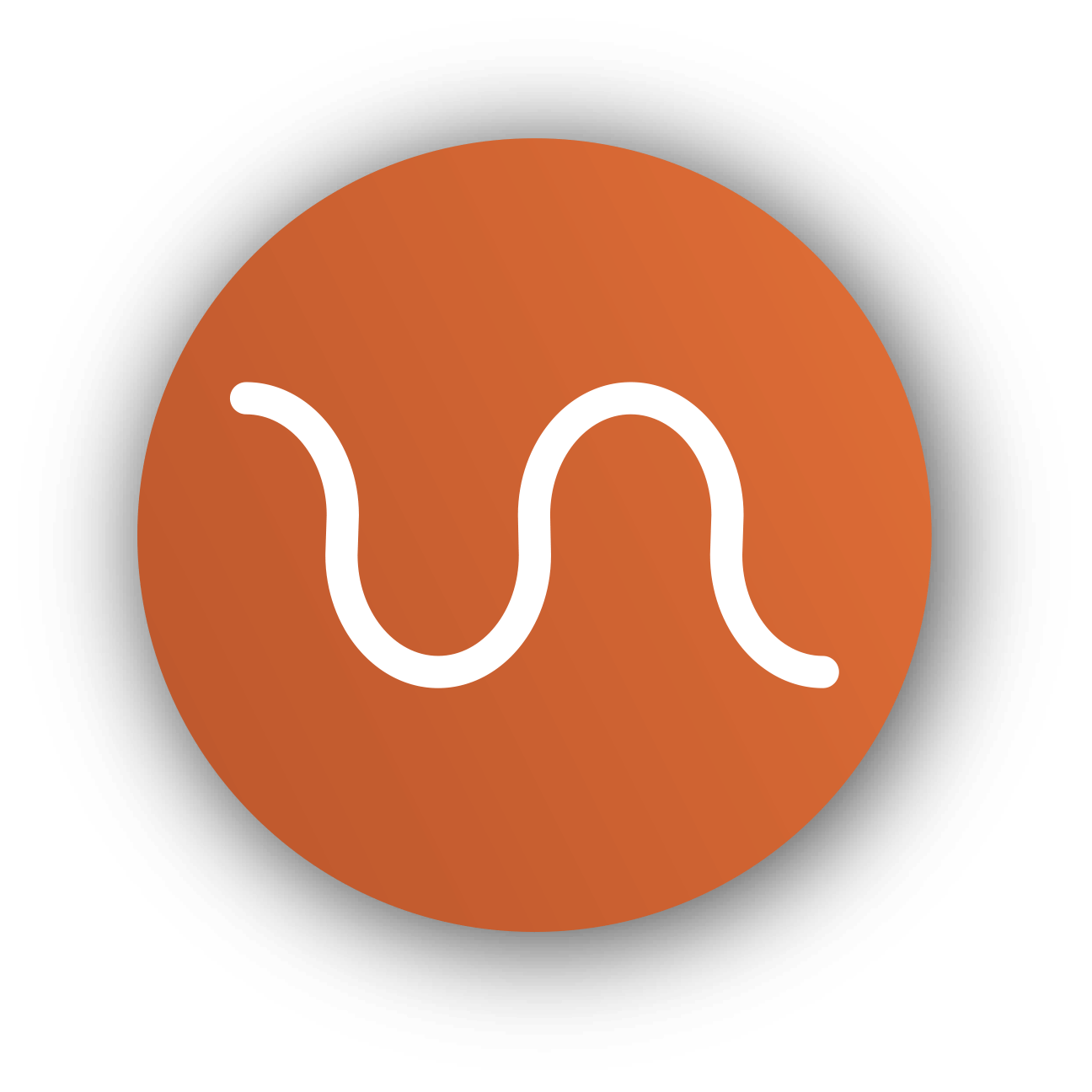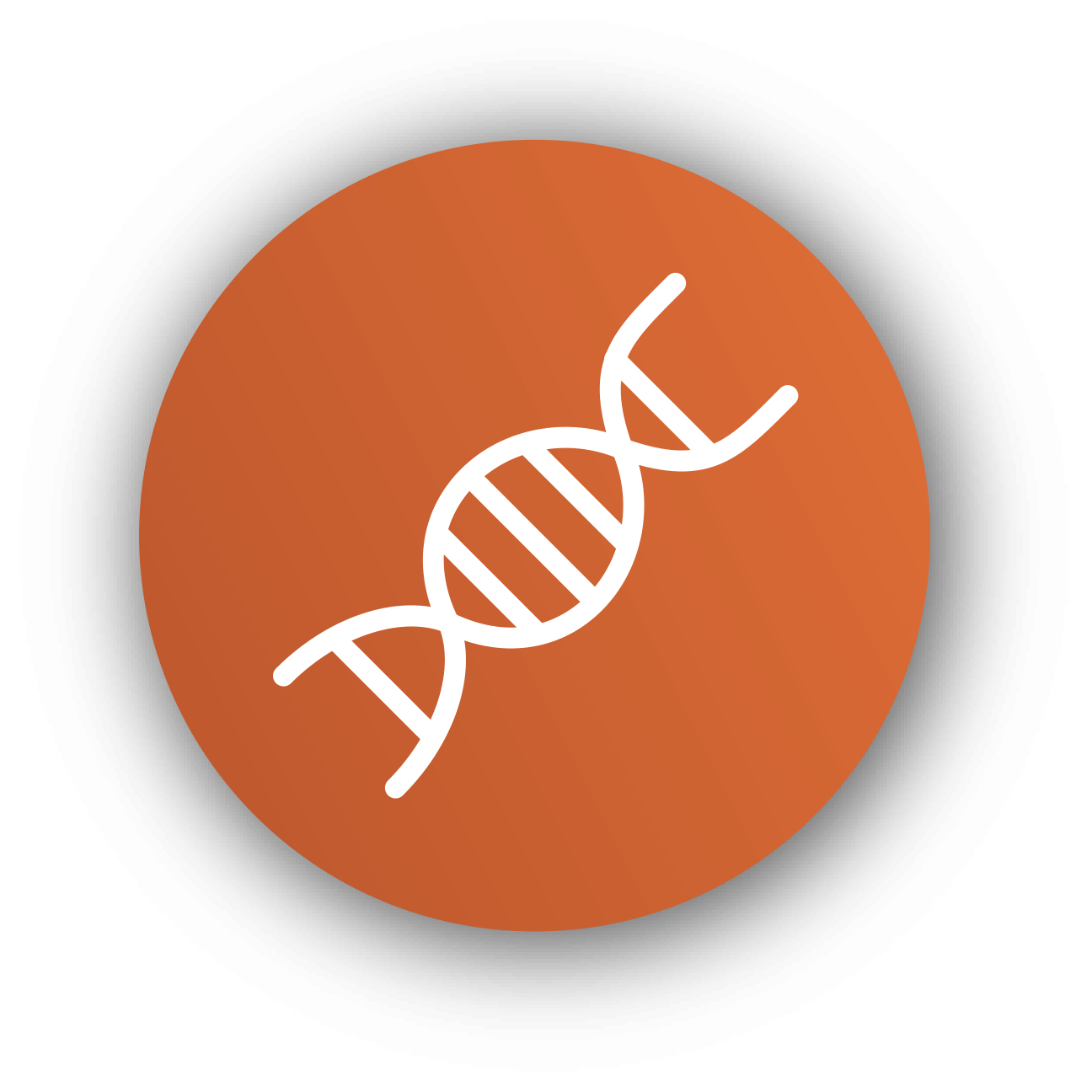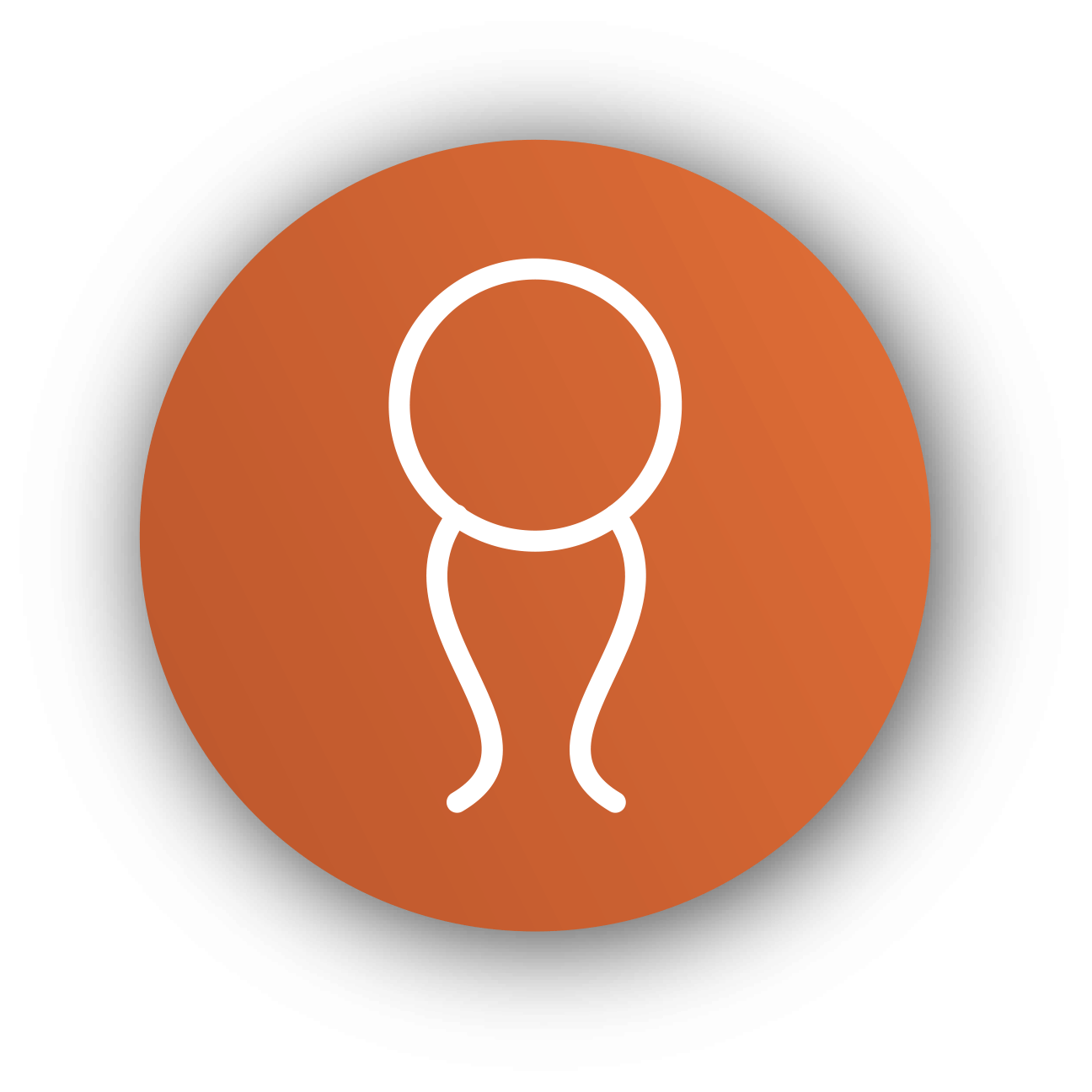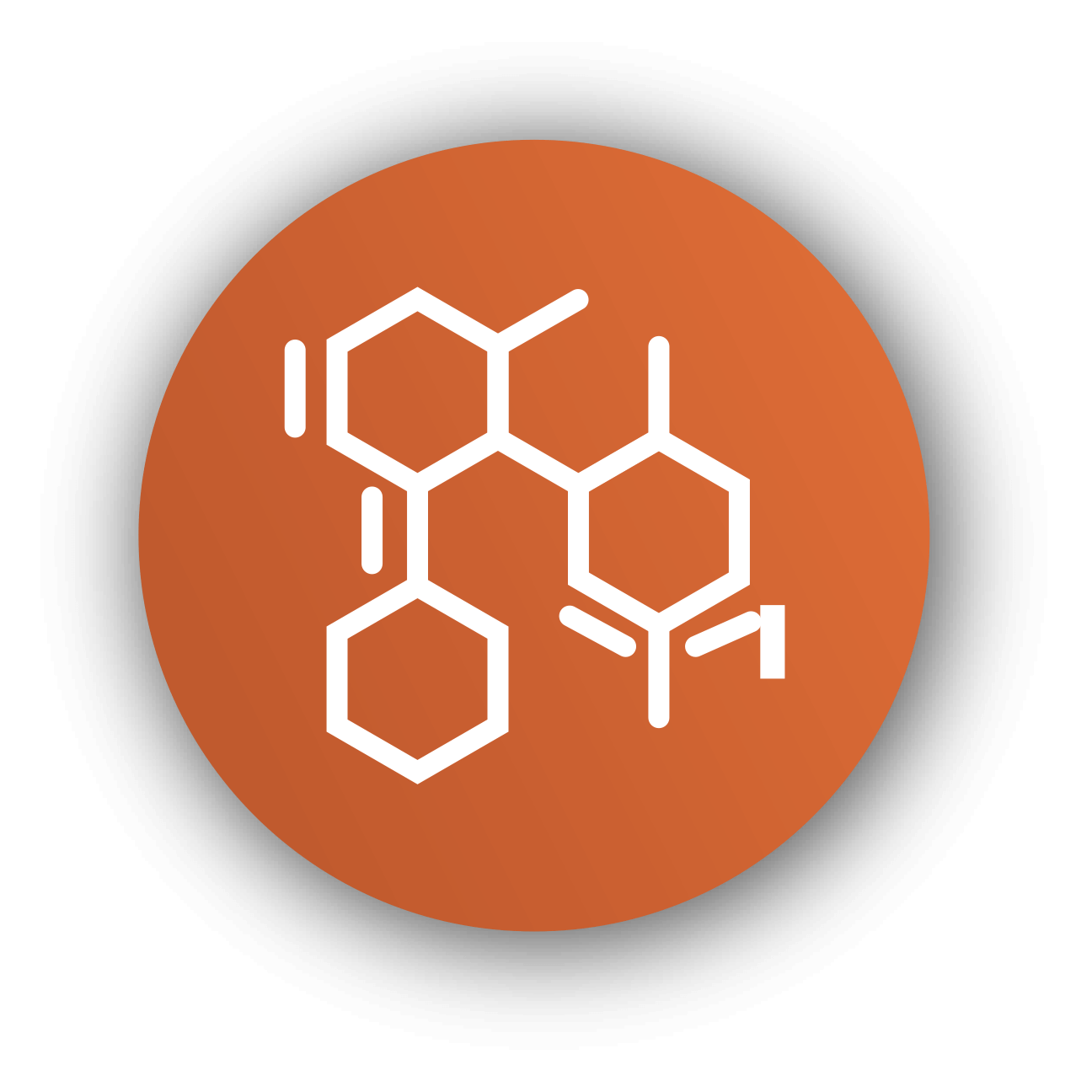 HOW DO LIPOSOMES PROVIDE A WAY OF TARGETING DRUGS TO A SPECIFIC TISSUE?
Liposome physico-chemical properties must be tailored to every delivery project to yield the expected therapeutical effects.
Regarding liposome composition, there is a wide range of phospholipids with different features that allow the control of its targeting abilities: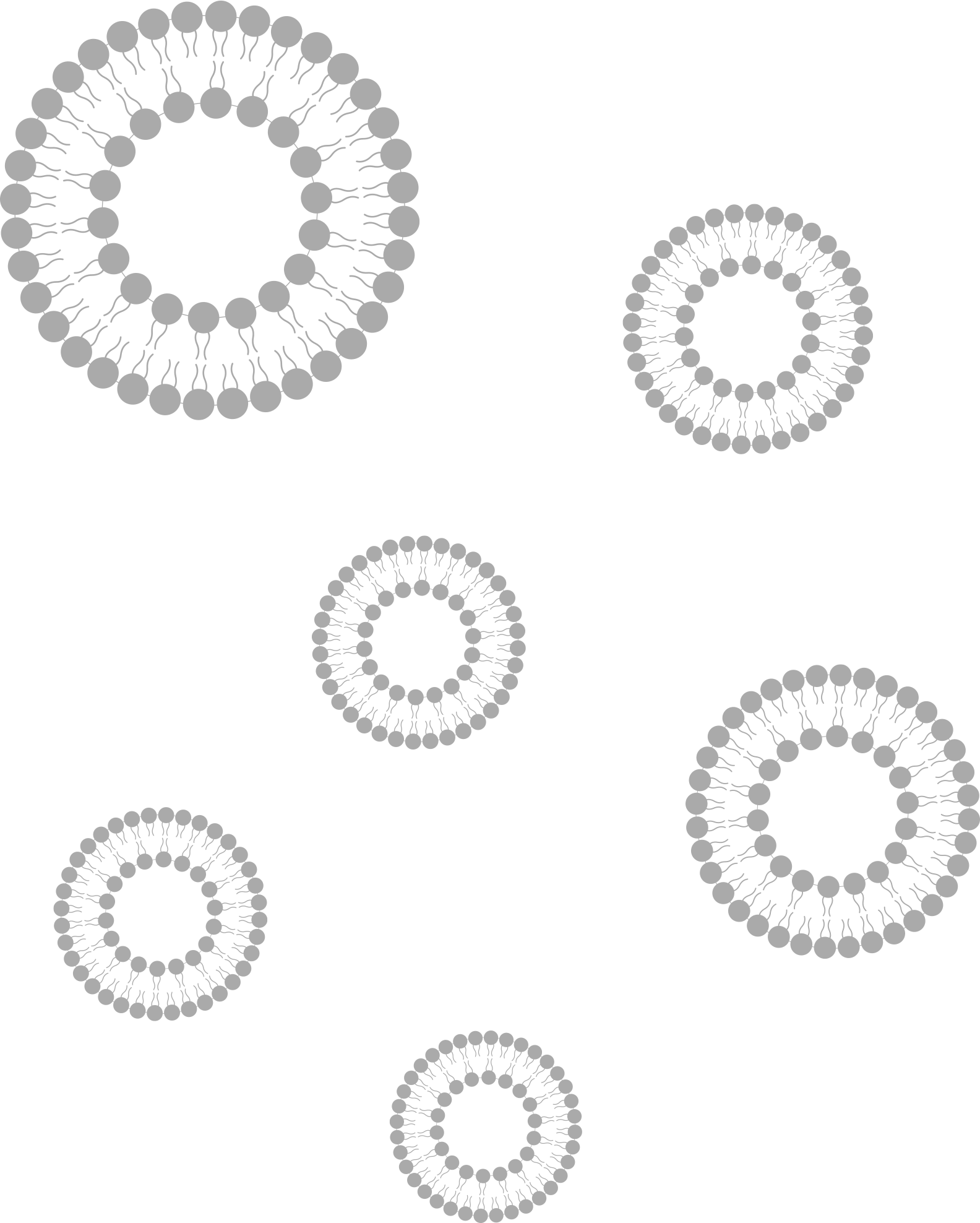 Fluorescence phospholipids for tracking and imaging applications
Cationic phospholipids for gene delivery
Anionic phospholipids like phosphatidylserine for immune system targeting
PEGylated phospholipids for stealth delivery
Functionalized head groups for the covalence union of the lipid with targeting compounds such as peptides or antibodies
pH ionizable phospholipids for mRNA delivery
Addition of coating compounds for targeting like chitosan, PEI, pectin, or hyaluronic acid
The physical properties such as size and lamellarity are closely related to its pharmacokinetics and drug loading capacity. They depend on the composition but mainly on the production methods, and thus, can be adjusted for each target.
Size and lamellarity are directly proportional to the amount of drug it can encapsulate since they increase the volume of the compartments accommodating both hydrophilic (core) and hydrophobic (membrane) compounds.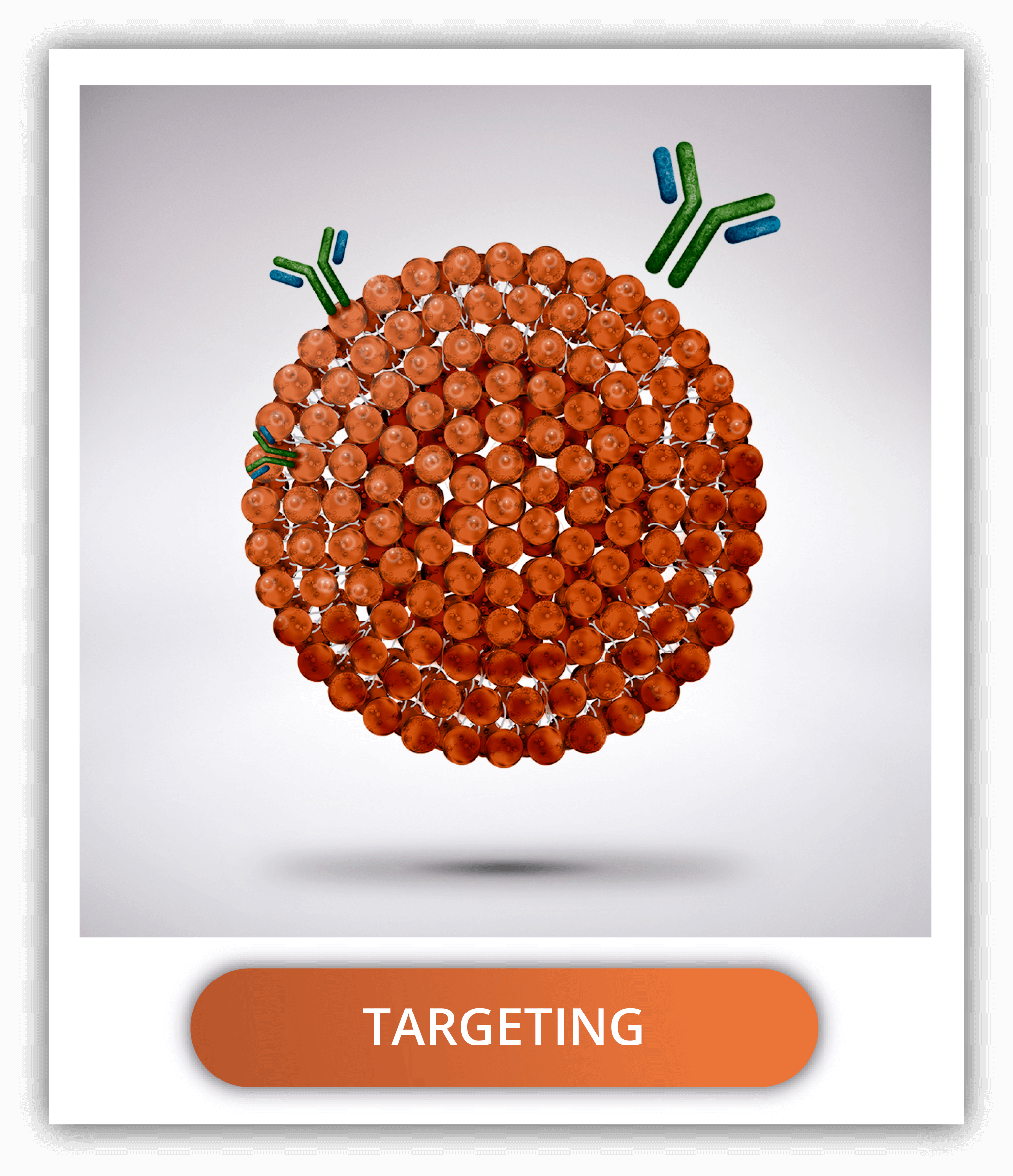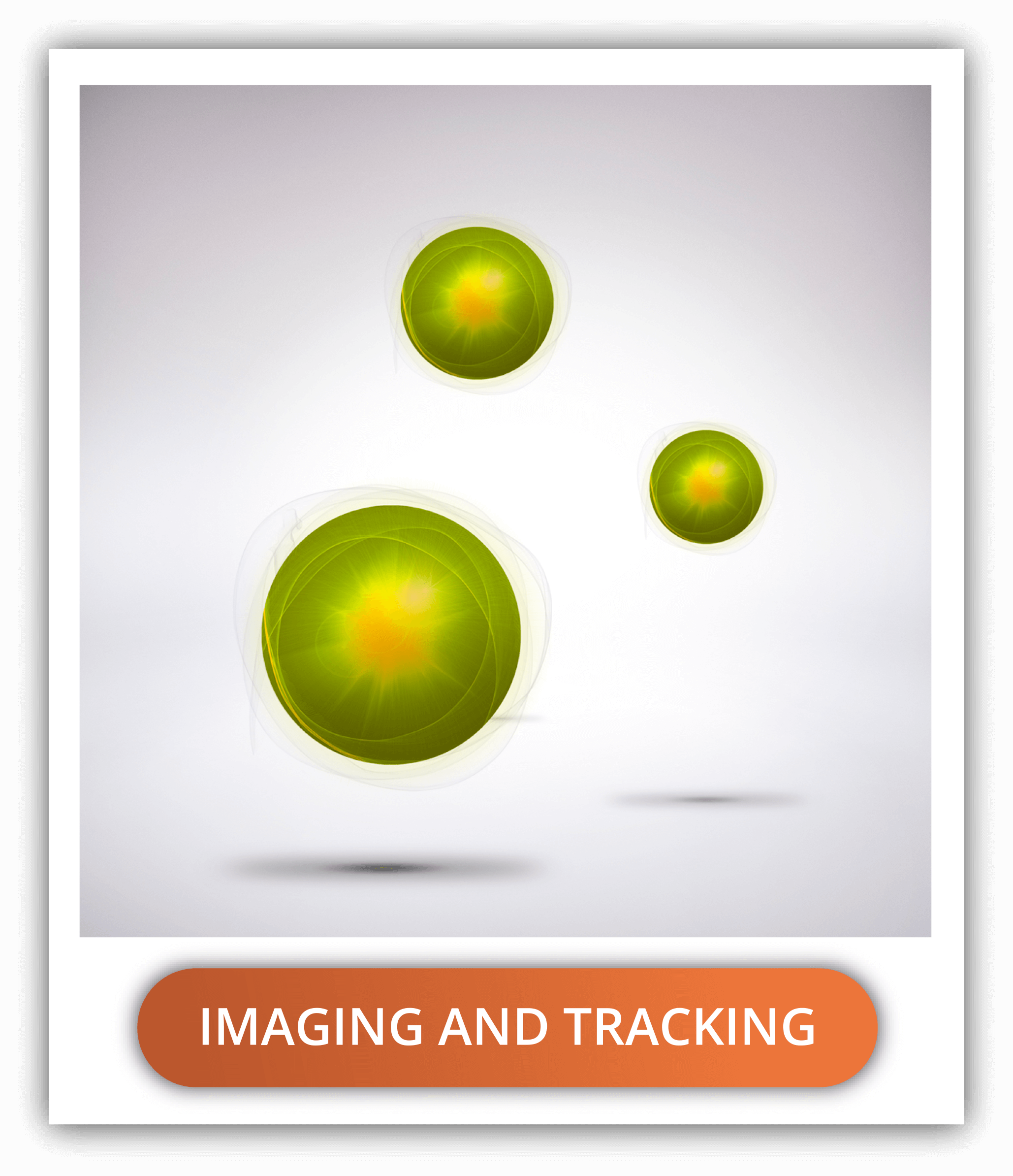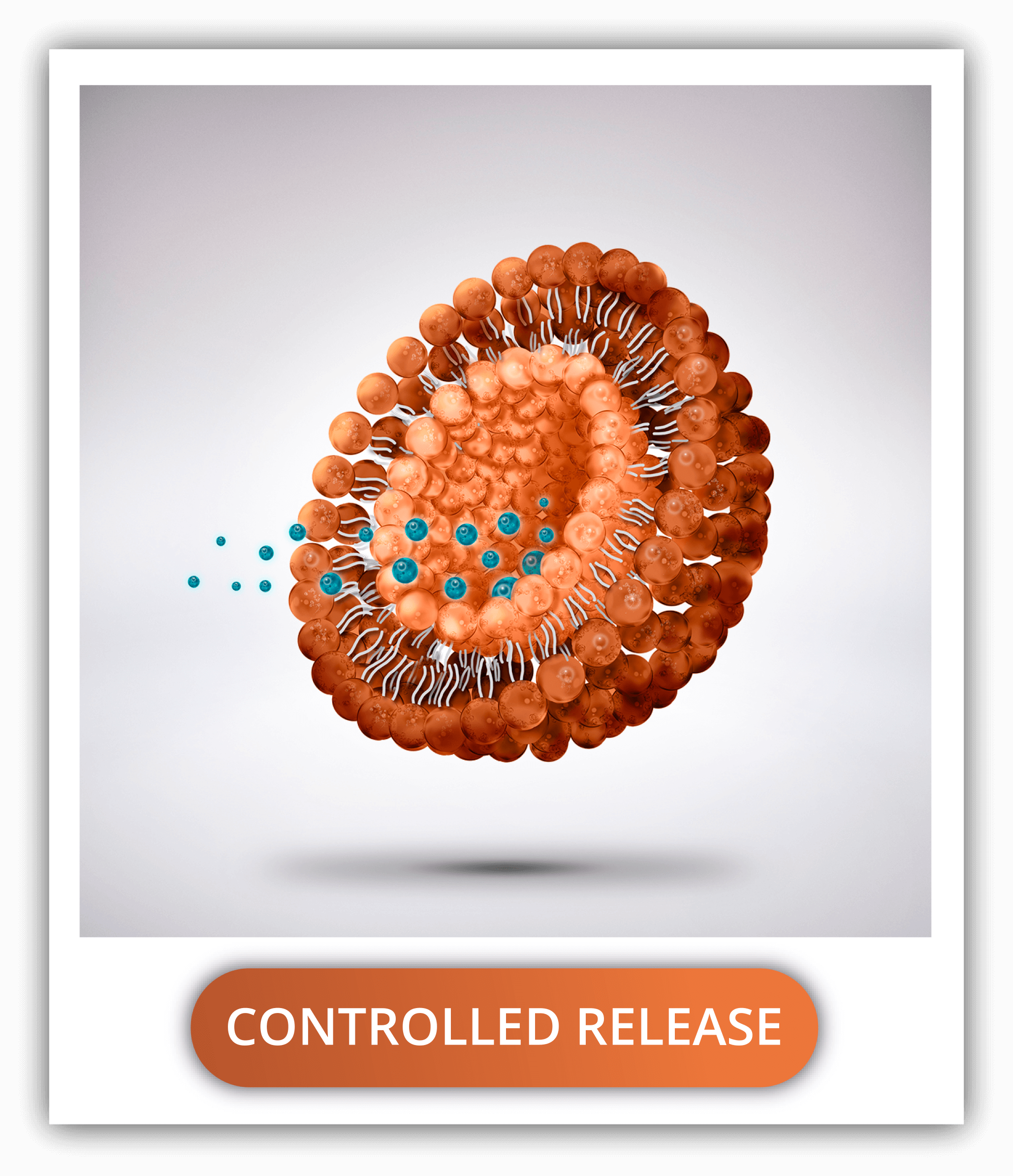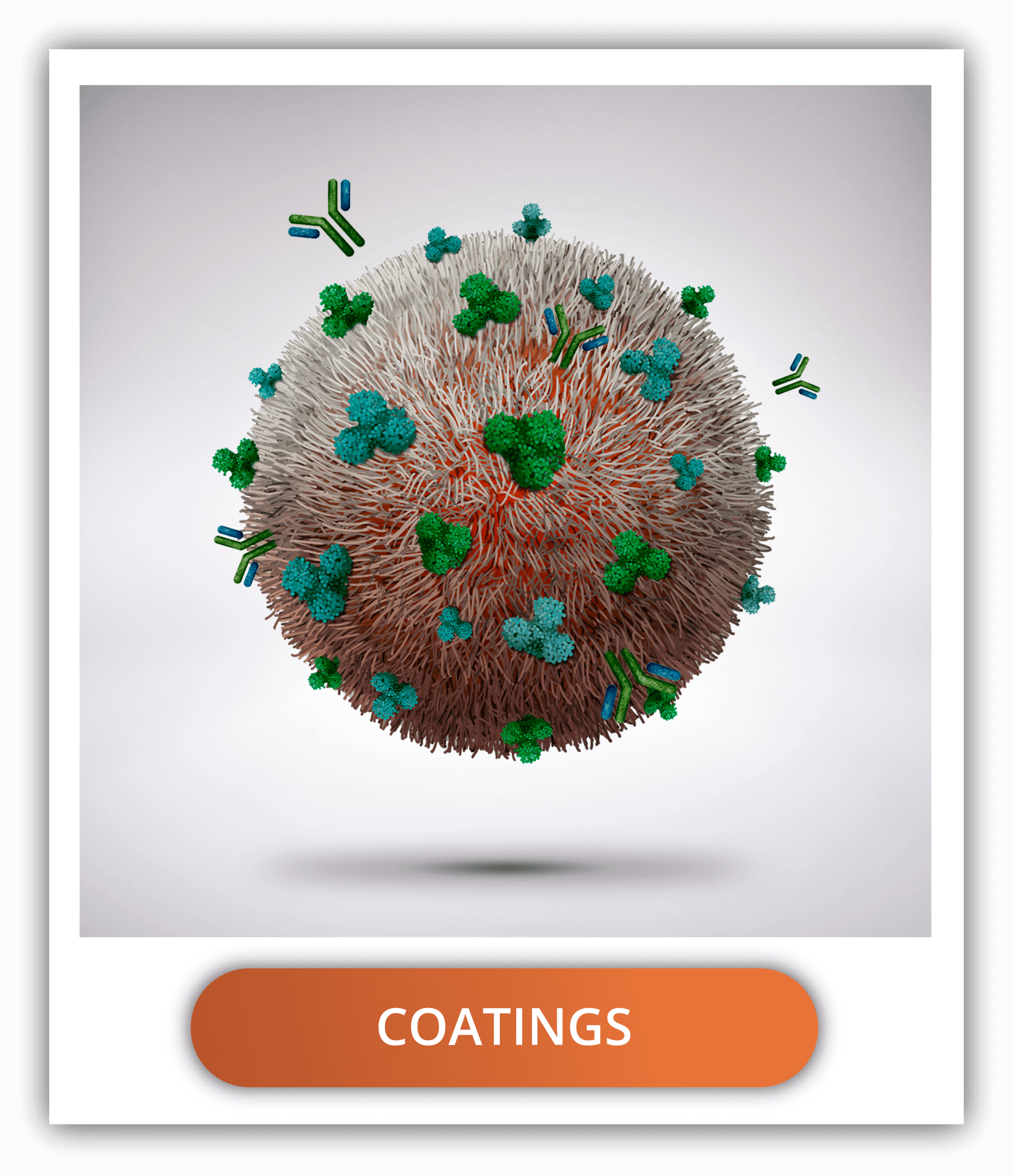 BUY LIPOSOMES FOR DRUG DELIVERY
Do you have a drug delivery project compatible with liposome nanosystems? Get in contact with us and tell us a little bit about your project. We will assess you and prepare a liposome design that ensures your success.